Breakbeat Tuesday – Funky Italy
Okay I'll admit that I used to be a full fledged member of the "cool guys club." Yeah, I owned the Major Force Box Set, and I had a subscription to Grand Royal Magazine. Now I was definitely not one of "The Bitches" you heard? But in the late nineties when everyone had their finger on the pulse of everything "INDIE" I also had my finger on the pulse of everything "ALT." One of the bands at the time I really checked for was Unkle which consisted of James Lavelle (the founder of Mo' Wax Recordss,) Tim Goldsworthy (who went on to help create DFA Records) and DJ Shadow (who went on to yell at kids to stay off his lawn.)
U.N.K.L.E. was cool, like really cool. Perhaps maybe too cool, because I would play it to people and they would look at me sideways. But I thought it was groovy, and smart, and the beats were crazy knocking. The first song on the Psyence Fiction basically has the right ingredients for a winning song: Hard drums, Star Wars samples and Kool G Rap… and Cosmo is happy.
Fast forward to 2005 and Hurricane Katrina basically became the most terrible thing that many of us ever saw. The dudes over on Soulstrut started up the Heatrocks Campaign (see below for more information about that, or click for the current Heatrock For Haiti campaign) and one of the records that was put up was Tullio De Piscopo's "Suonando La Batteria Moderna (Modern Drums – A Practical Guide)." I don't remember if it was my homie Matthew Africa who put it up for charity of if he bought it, but I've always wanted that record since I saw it out there. It's tough because it's like a $400 Italian record of drum instructions, and that's kind of a hard purchase to justify. But then again, cuts like these might make the case for dropping that loot. Here's 2 cuts from the "Suonando la Batteria Moderna" album.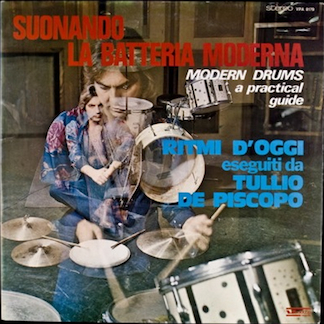 Tullio De Piscopo "Medium Rock" (Vedette, 1974)
Tullio De Piscopo "Samba Carnival" (Vedette, 1974)
Pretty nasty, if I do say so myself. Just goes to show you that you never know who's got it and who doesn't But to be honest. how are you gonna tell me this dude don't got drums?