Tuff Crew Love
It was a great weekend – one which I had vowed to take off, but I heard that my homies DJ Supreme La Rock and DJ Skeme Richards were going to be in town doing the Hot Peas And Butta party so I decided to swing through and check it out. Also, I just happened to bring a few 45s with me just in case I got the feeling. So when i showed up, Supreme was KILLING It on the 45s so I had to jump on to throw some joints. Then Skeme got on and closed the night out. It was really a fun time, and not something that I get the chance to do too often. Inspiring, actually. So thanks to them dudes and if you have the chance to see either one of them do their thing in a city near you, definitely go – you won't be disappointed. And check back here for more flicks, and video, soon.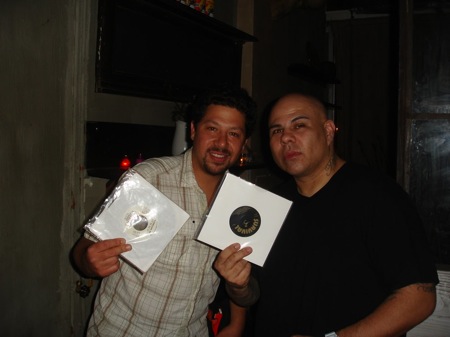 So I said that I was going to talk about some rap music this week and you damn straight I'm going to make that happen. So now that America has joined the rest of the civilized world and gotten universal health care, I got to thinking of my man DJ Too Tuff who's been battling with thyroid cancer since last year, with no health insurance. But instead of getting into that story, I want to speak on the music. Let me tell the story about a bunch of brothers from where I come from, what they had to go through, and how they changed the world (or at least, my world.) I'm fin to talk about the Tuff Crew…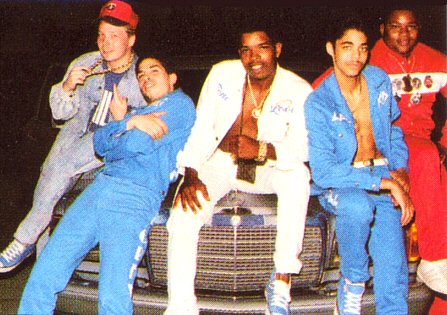 Tuff Crew came about in the late 80s and consisted of (pictured above from left) DJ Too Tuff, Ice Dog, Tone Luv, LA Kidd and "The Mountain" Monty G. These five dudes, representing a slew of different neighborhoods around Philly, released their first record the Phanjam LP at the height of Philly rap's global power. At the time you had huge acts like Jazzy Jeff & The Fresh Prince (representing Overbrook, a section West Philly,) Schoolly D (representing Parkside, a section of West Philly,) Cool C and Steady B (both representing Hilltop, another section of West Philly) to name a few groups that were already established as the voices of Philly rap. But along came Tuff Crew, a multiracial group from West, North and South Philly, with a completely unique sound to them. In a Wax Poetics article I wrote a few years ago, I penned them "Philly's First Rap Supergroup." The breakout single from their second album, 1988s "Danger Zone" was a high powered uptempo bass-heavy rap assault that sent shock waves across the city. I'm talking about one of the all-time great Philly anthems, "My Part Of Town." From the opening guitar licks (taken from The Blackbyrd's "Street Games") to the almighty Kurtis Blow saying "So damn tough," to those booming 808s, this song is ingrained in the psyche of any Philly rap fan from my era. That song was inescapable that summer, as you heard it blasting from pretty much every car driving down the street, in any given neighborhood. . And as a DJ, it was elementary that one of the first things that you learned was cutting up doubles of that vocal intro.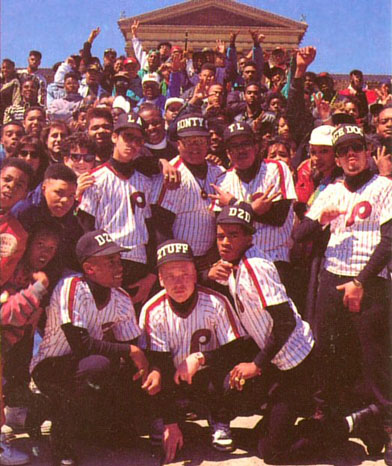 These dudes were Philly heroes. I remember when it was announced on the radio that they were holding the photo shoot on the art museum steps for the back of their second album on the radio. I begged my mom to let me go but she didn't. But still, they never stopped being my favorite group, my heroes. In fact, there was an abandoned warehouse that all us kids used to hang out in ("The Factory") at 22nd and JFK and me and my homies deemed our floor "The Danger Zone." But all in all they were a masters at what they did. Tone Love, LA Kidd and Ice Dog had lyrics that struck the perfect balance of content, swagger and awe-inspiring dexterity. And to this day I still maintain that Ice Dog has one of the best voices in rap of all time. The beats themselves, done mostly by LA Kidd with apparently so back-up from Ultramagnetic MC's Ced Gee, were so ahead of their time, striking a unique balance of super-rare funk breaks with a barrage of TR-808 drum machine beats. And the cuts, the DJing, provided by Too Tuff "The Deuce Ace Detonator" were so inspiring to me, that I studied those records back and forth, only to say to myself after many listens "I want to do that."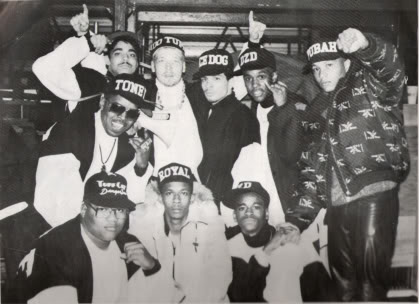 I eventually got to know DJ Too Tuff several years into me first starting coming onto the party scene in the early 90s and dude was a tremendous support to me in my career even back then. In 1993 or 1994 I remember doing a huge party at Pedro Gunn's, a reggae spot off of 4th street where I was opening up for Too Tuff. I don't remember what it was that I did exactly, but I remember doing a certain mix involving Super Cat. He came up to me afterwards just to tell me "Man that was super dope. I wanna be like you" or something to that effect. That was one of those moments of personal validity that I'll always remember, one of those moments where I knew that I must be doing something right. I was glad to be able to have him (along with another Philly DJ legend and friend of mine, DJ Tat Money) join me and The Rub on stage at The TLA last year. It felt as though things had kind of come full circle.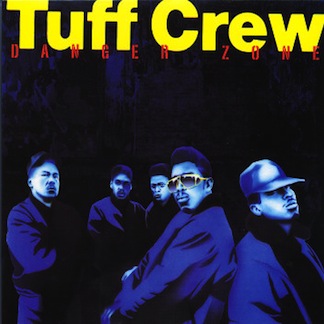 Now I love new rap music, and I'm not one of these dudes that will go around and say that everything past 1996 is terrible. But understand how hard it is for me when the stuff that I came up on back when I was a kid was so good, or in other words, so damn tough. The Tuff Crew catalog is truly remarkable, especially the second and third albums. But what is amazing to me is why, when there are so many "golden era" rap groups that are consistently given their due and their props for their contribution to the music and art form, Tuff Crew are consistently overlooked. I know that, outside of the Philly impact, they made noise in Miami for a bit. I always considered that their bass sound was a contributing factor to that, as well as them touring with The 2 Live Crew. However, aside from most music nerds (like myself, admittedly) they're largely unknown. But regional bias aside, I hold Danger Zone and Back To Wreck Shop up there as being just as good as many of the "golden era" touchstone albums. You should check them out if you get a chance. And for the record, trials and tribulations aside, the Crew are still around doing their thing every so often. If you get a chance to check them out, make that happen. As for me, well I have nothing but love and respect for the 5 Philly brothers who, in doing what they did, made me able to do what I do.
Now, here's some rap music to listen to: First up is "She Rides The Pony" from the "Back To Wreck Shop" album, an uptempo B-Side single that was recently appropriated brilliantly by The Roots for 2004's "Boom" where Riq-Geez does an incredible imitation of Kane and G. Rap.
Tuff Crew "She Rides The Pony" (Warlock, 1989)
Next is "Detonator" from the "Danger Zone" album which is the ode to their DJ. All albums around this time had the obligatory "DJ cut" and this one has Too Tuff cut the track to shreds towards the end of the 3+ high powered minutes.
Tuff Crew "Detonator" (Warlock, 1988)
Here's a remix of "My Part Of Town" done courtesy of  Rutger "Rutti" Kroese from The Netherlands. It's not dramatically different from the original, but it extends the intro some and also adds a very tasteful bridge from Lyn Collins in the mix. Thanks to my man Matthew Africa for putting me down with this a few years ago.
Tuff Crew "My Part Of Town (Remix)" (The Mastas, 19??)
Last but not least comes from the first Tuff Crew album "Phanjam" from 1987, but it is not Tuff Crew. On that album they gave 2 songs to a crew that they were friends with, Camden's Krown Rulers. Camden, NJ is kind of like to Philly what Brooklyn is to Manhattan. But without all the charm and history. Well, Camden is kind of a classic picture of urban blight. Consistently judged one of the most dangerous cities in America, Camden is one of those cities that you just drive through on you way to Philly, but never stop in. However, MC Grand Poobah (not that one) and DJ Royal Rocker came out with a monster record that still moves crowds in Philly to this day. 3-2 cross the bridge, boy! A crucial Philly rap record here, even if it's technically from New Jersey.
Krown Rulers "Kick The Ball" (Warlock, 1987)
So that's it for today. Considering I'm going to Miami this week for WMC I wanted to get that Tuff Crew schitt up. But I'm going in heavy for Miami for tomorrow's Breakbeat Tuesday so watch out.
BONUS BEAT UPDATE – I just found this vinyl rip of a song called "2-1-5″ from a group Plague Regime. I can't find the 12" as it's probably in my mom's basement, but I'm pretty sure it was released on Echo International in 1998. The song is a remake of Tuff Crew's "Open Field Attack" and the guy calls himself "Daish-Raw" which leads me to believe that it's actually Philly rapper from the 90s Sha'Dasious. It's not as good as the OG but still a cool record to have, especially for those folks that are into 90s regional stuff. And if that's your thing, you should also look for the other big Sha'Dasious record that was big (at least big in Philly when it came out) "I'ma Put My Thing Down."