Video Premier – Hang Glider "The Landings"
Nothing bothers me more than people complaining that there's no good new music coming out anymore. There is so much good music that is constantly released it's almost hard to keep up with it. I understand the sentiment that perhaps sounds change and that what is "new" may be outside of the comfort zone of what people are accustomed to, what is "new" may be a departure from what it sounded like when one formulated one's taste. But to paraphrase the late great Cannonball Adderley, "Music ain't supposed to stand still." That's a philosophy that I try to embrace, and run with, more and more each day.
Now like I said, there's so much music that's constantly released that it's hard for me to keep up with it. It is a discipline, but often songs and albums get lost on the sauce that is my inbox. But not too long ago I hunkered down and ran through a bunch of joints – mostly crap honestly – but at some point went over an EP by Hang Glider. Seriously good. Like GOOD good. I honestly had to exclaim that I had found a new favorite band, and the Hang Glider record was one of the most exciting thing I had heard all year.  One song stood out as my favorite track.  Today I am proud to exclusively world premier the very first Hang Glider music video for that song– "The Landings". It's directed by Hilton Carter, and it includes malt liquor, dancing garbage bags and an alien abduction. Hope you enjoy it. I sure did… Watch it on Youtube in it's full size here or you can just peep below
Now again like I said, I'm a big proponent of supporting new music, and a crucial step in that support is actually going out and buying it when you can. There are a few places where you can peep the entire record (and the entire record is really good) so I suggest you do so. Click here and you can stream the full EP. Click here to download it from iTunes for only $3.99 (less than a Starbucks cup of coffee.) And click here to cop the physical product, either on limited edition (300) 12″ vinyl or on CD (this is recommended.)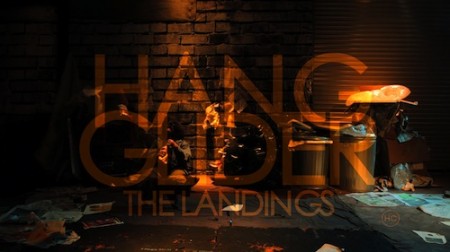 I'm definitely going to be watching for more from Hang Glider and I think you should too. Follow him on Twitter @thehangglider or check him on Facebook.