The Rub Housewarming Party At The Bell House – Brooklyn, NY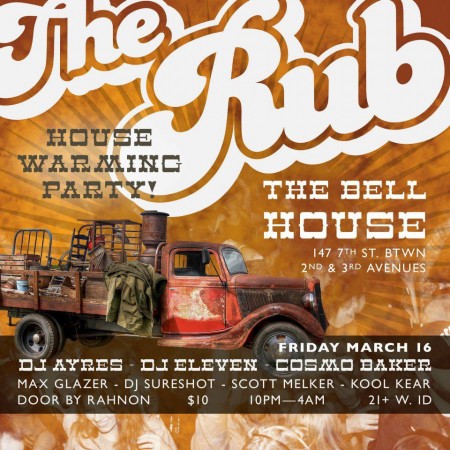 It's time to say hello to The Rub's new home!  While we won't be hitting our new schedule of last Saturdays at The Bell House until April, we couldn't let a month go by without a Rub.  Join us this Friday, March 16th at 10PM at The Bell House as we warm up our new home with some of our favorite DJs (Max Glazer, Sure Shot, Scott Melker and Kool Kear) and all of our favorite partygoers (YOU!).
Friday, March 16th, 2012
The Rub Housewarming Party
Featuring your favorite guys
DJ Ayres
DJ Eleven
& Cosmo Baker
Plus special guests Max Glazer, Scott Melker, Sure Shot & Kool Kear
@ The Bell House – 149 7th St. – Brooklyn, NY
10PM-4AM, $10 at the door, 21+.