RIP Adam MCA Yauch
Today I woke up to the news that one of my childhood heroes had passed away, Adam Yauch of the Beastie Boys. He had been suffering from cancer of his parotid gland since 2009 and, although he was a fighter the cursed disease got the best of him this morning. Unlike the passing of most public figures this one hit me like a fist to the gut. For some reason, I took to my Twitter to express what I was feeling… Here's the transcript: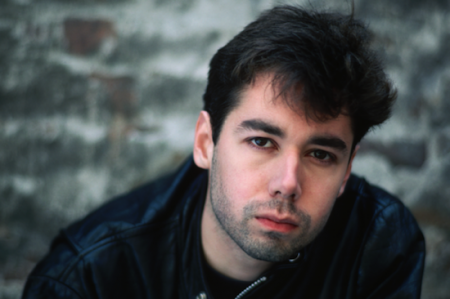 Lord, where to begin… I guess 1985 would be a good starting point. I was a young Philly city punk growing up on the "holy trinity" of cultural references: graffiti, skateboarding, & hip-hop / hardcore music. My sister @zoestrauss was at that time fully immersed in the Philly Hardcore scene, her fledgling career as a photographer was being formed, taking pics at shows by Philly hardcore acts like Trained Attack Dogs, Ruin, Five Story Fall, Electric Love Muffin et al…
(As an aside, my mom is texting me about serving the Beastie Boys tea at our kitchen table in 1986 – I'll get to that in a few.)
Anyway, Hardcore was Zoe's thing and by that time I was already in love with rap music. Philly in the city in the 80s, it's what you did. Run DMC, Fat Boys, Whodini, Newcleus, all that electro breakdance shit. Pulling cardboard out onto Chestnut Street to break in front of Space Port or Supercade (Zounds was too scary – Philly heads know the deal…)
In late 1985, my mom opened up Philly's first skateboard shop, Spikes Skates. It was the cultural hub of all us kids. 80s skateboard culture was like the Island of Misfit Toys – kids that didn't really fit into any box whatsoever. Black, white, latino… And us skaters were just as quick to listen to Bad Brains as we were to MC Shan. We really had our distinct style & world and we owned it.
(I may be meandering a little bit as this all comes to me, please bear with me, this is tough…)
One day I came home and my sister was there with some friends & some older cats that just seemed COOL like with a capital "C" sitting around the kitchen table. They were cool to me, treating me like the little brother that I was. "These are my friends from NY, they have a band Beastie Boys." I was told this was Cookie Puss era but it seems later than that. Honestly I wouldn't have given it any thought considering how many kids used to always stop by our crib, which was the way it was. But in meeting them briefly at my kitchen table I was, as a young buck, immediately awestruck by their style and "attitude." I said to myself "See, when I grow older I wanna be JUST LIKE THESE DUDES" and I didn't even fucking know them. So here's my mom serving tea to my sister & her friends & their friends, three young dudes from NYC and me I just left to go play ball… Whom I didn't know would change my world dramatically and forever not too long afterwards.
Skating routine was pretty standard. Roll to Spikes during the day, hit the launch ramp and street all afternoon, pizza, taco house etc… Skate up to Love Park later in the afternoon (AND MAKE NO MISTAKE – IT WAS US DUDES THAT PIONEERED LOVE PARK. #REALRAP.) My dude Yuri Poritko had a forest green Volkswagon Beetle all kitted out with a Blaupunkt system & always would blast the fresh jams. One day he was rocking this shit with this CRAZY beat that was running backwards and was just more hardcore than anything I'd heard before.
"Nooooowwwww, here's a little story, I'd like to tell." – Now that was 1986. Passyunk Avenue, Philadelphia, PA.
So I don't know how I got that but I got that song on a dubbed tape and listened to to incessantly front to back memorizing every last lyric, all of which I can still recite word for word to this very day. So this is '86, and on Sundays the routine was to head to Chestnut St., hit Spaceport, Supercade, The Gallery, Armand's, Sound Of Market. Ask @SheckyGreen he knows what I'm talking about… Now I knew these dudes here were white but you know it wasn't even one of those things that you gave much thought too, cause the tunes was just that goddamned hard. But at the same sense there was a facet of validation in a way I am not gonna lie. Cause when I realized HOLY SHIT this record that's so banging that was these dudes that were drinking tea w/ sister & moms in my kitchen. Three nice Jewish boys from NYC & they were on the pulse of everything my generation was about. The desolation & anger, the liberation. Dead ass it transcended race as much as the media tried to hype it as being that or the second coming of Elvis or some bullshit. Cause everyone I knew loved the Beasties. Black white purple whatever. And in the oppressed Reaganite years when shit was all fucked up License To Ill became the soundtrack to youthful rebellion for ALL OF US. Black kids & white kids at 11th & Market singing together "I did it with a wiffel ball bat soooooo…" and that was what it was STRAIGHT UP.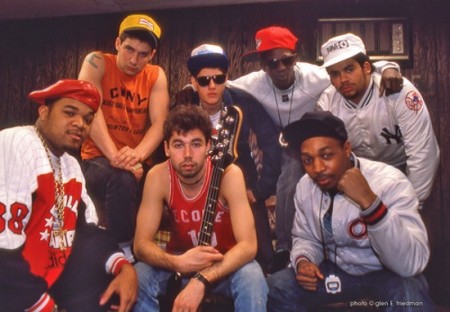 In May or June of 1987 The Beasties were playing at The Spectrum and my man Jamin got his hands on some tickets so we were gonna go. The opening acts were 2 somewhat unknown groups. First was a really great hardcore act that tore the house down… Murphy's Law. #NYHC
(Am I going too fast? Do I have time to get a coffee before I speak about the '87 show?)
Murphy's Law was up first, OG lineup. Smashed the whole arena to pieces. But I wasn't ready for what was to happen next… Air raid sirens started blaring and out stepped these soldiers dressed like Black Panthers, smoking Uzis in hand, marching in lock-step. A booming voice from out of nowhere and Philly wasn't ready for this one. Public Enemy took the stage. I had never heard of them before that moment but I've never been the same person since #SeaChange. As @MrChuckD & his ultimate foil Flavor Flav ripped the arena to pieces I knew I was witnessing history unfold by the minute. And PE was the perfect counterpunch to Murphy's Law for this show to help unlock some sort of frenetic energy of youthful rebellion. But the crowd was ready for Beasties & even though some ass stole my Beasties trucker hat off my head a few minutes earlier, I wasn't bummed. The lights dimmed, the crowd roared… "Let it flow, let yourself go, slow and low, that is the tempo…" These 3 nice Jewish boys took the stage and had the whole arena in the palm of their hands as they ripped through all their joints, Mike D w/ bucket hat & VW pendant, Ad Rock w/ Bed Stuy Phys Ed tee, MCA w/ flannel shirt, leather jacket and aviators on.
(I know people are pissed I'm flooding their timeline right now but fuck it. I haven't thought about this shit for years…)
Beasties on stage ripping through songs, and on each side of the stage, two girls dancing in suspended cages. Next level business. And they had on stage a giant flat of Budweiser cans… Cans they would drink, spill, throw, spray on the girls, the crowd, each other. Perfect mayhem, a glimpse into my young heart. It was orgasmic as the show headed towards its grand finale and as "Fight For Your Right" guitars dropped in… The entire crowd of 15,000 kids broke out into a huge mosh pit, fighting for our rights and saying FUCK EVERYONE ELSE THIS IS OUR TIME. We were so engulfed in the energy of the moment it took me a moment to realize what was actually happening on stage… A big box that was on the riser opened and out it rose… A giant erect 20′ penis. So here I am drenched in sweat and drink losing my mind watching these 3 dudes rock us all to death, the same 3 dudes who not long before were drinking tea w/ my fam with moms & sister in my childhood kitchen. 3 dudes on stage covered in Bud dancing in front of an enormous dick saying EVERYTHING THAT WAS IN MY FUCKING MIND! So much beer on stage that MCA slipped, hurt his knee and had to be helped off stage as the show came to a close, then my man said the magic words… "My dad has passes for us to go backstage to meet them." So we were ushered backstage at the Spectrum and went into the rooms filled with weed smoke & girls & noise. Flavor Flav was cracking jokes in the hallway on some of the girls as the roadies were filtering who and who didn't enter the inner sanctum. And out come Ad Rock & Mike D to greet us, shake hands & take pics with us. MCA couldn't come out because he had hurt his knee too badly but 2 out of the 3 wasn't bad at all. By this time in life I knew I wanted to be a rapper when I grew up and even had my own group with Jamin – we were called "The Def Crew."
(As an aside, sitting outside a coffeeshop in SP right now, at least 5 cars driven by blasting Beasties. Kinda like when MJ died…)
So here I am, the "rapper" of the crew (Def Crew WHATTUP) and my boys are telling me "Yo, kick a rap for them, Cos!" And right when I had my chance, the only rap I could think of was my "New Jew Rap" & I got embarrassed and I pussied out… But we got the photo of us w/ Beasties backstage. Still got it too. Gonna ask mom to dig that up post-haste. I recall it vividly, Ad Rock, Mike D, us kids looking like deer in headlights all except ME – up front playing Joe Cool flashing the peace sign #BadAss.
Ultimately, Beasties were the living flesh of everything that us kids stood for. The fun and the fury. Safe to say their presence influenced me in a way no other group has before or since. And their evolution as a group and as men mirrored my evolution from a kid to teen to young adult. I grew up WITH them. So it's sad for me today, cause losing Adam Yauch feels like losing someone I've known my entire life basically.
Now this is just my Beastie experience up until 87 and there are tons more obviously, but I gotta end this tale here at this point. I'm just glad to have been there to have witnessed it as it unfolded. These are the moments that helped create the fiber that I'm made of. Thankful for everything Beasties gave to me. Thankful for Adam Yauch to have been a part of my life. #RipMCA. Thank you all for listening / indulging me. I appreciate it a lot. I hope you enjoyed it. Word up. One day I'll tell my story about me, MCA & Ricky Powell backstage at The Troc 1992 during the Check Your Head tour haha #Sorted. But I have a million stories. Often been called a Forest Gump type – always at the right place at the right moment. Look forward to sharing. But I hope that you listening to my tales was as cathartic as it was for me in telling it. Again, thanks a million #BeastiesForever.
SOOOOOOO, I hope you enjoyed my tales. There's plenty more where that came from. And, while we're at it, it would be my honor and pleasure if you, YES YOU, reading this right here, would follow my feed on Twitter. Just. Click. Right. Here. Thanks!
RIP NATHANIEL HORNBLOWER AKA NATHAN WIND AS COCHESE.