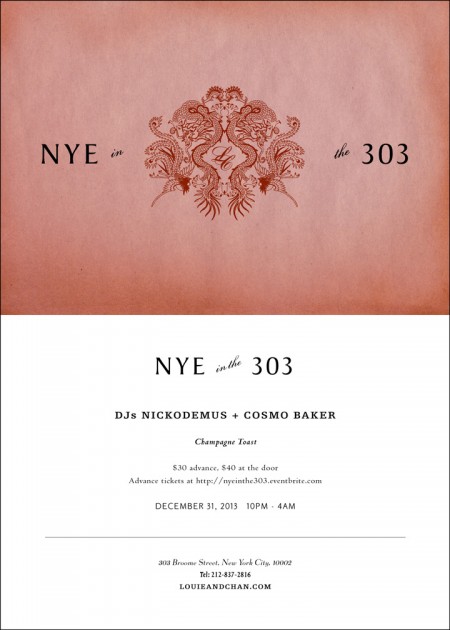 DECEMBER 31ST 2013
NYC IN THE 303
DJ NICKODEMUS & COSMO BAKER
AT LOUIE & CHAN – 303 BROOME ST. – NYC
Towards the end of 2012, my dear friend / Larry Levan worshiping / Tom Of Finland loving lady killing / sartorially revolutionary Elliot Aronow AKA Jacques The Ripper, the man behind Jacques Elliott,  asked me to dig deep into my sexiness and come up with a list of SEX / MAKE OUT JAMS to share with the people. Obviously that's second nature to me  – LL Cool Cos is about his business, and this man's business is to make the ladies swoon hahah. But for real, I put together just a little playlist that we called "Smash Hits" that's not your everyday cliched smooth R&B nonsense. Understand that this list of tunes right here is your definitive go-to list for when you want to kick it up a notch with that special lady or ladies. Or if you want to not get locked in the friend zone. This list is about keeping your options open. This list is not an instruction manual… But an experience. And with that, we present to you, "Smash Hits"
Shout out to me and Jacques, here backstage at The Paradise Garage, circa 1984. Yeah, we gets it in…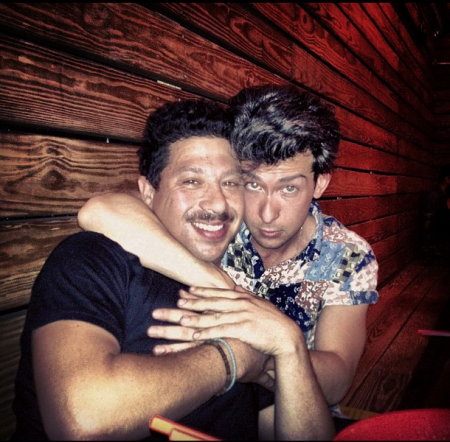 Serge Gainsbourg "L'Hotel Particulier" – Any list of this caliber wouldn't be complete without Serge, and this ode to late night smash-fests in Rococo-styled rooms is sure to make any woman's knees turn to crème fouetté. Even if she only wished she knew French, the message is loud and clear. That hot pop star that you think is so cool? Serge is where he got his swag from – so get on that level.
The Isley Brothers "Voyage To Atlantis" – Make no mistake: Ernie Isley is a genius. But it's not just his shredding that makes this song a certified pantie-dropper. An ode to what was and what might have been is guaranteed to make that partner of yours let it all hang out. Isley Brothers is true baby-making music and this is the brothers at the top of their game.
Caetano Veloso "Cucurrucucú Paloma" – The Brazilian Bob Dylan recorded this version for Pedro Almodovar's "Hable con Ella" and I don't know about you but this just kind of oozes sex from the speaker. Just ask the people that I've played it for… There's so much to be said in what's NOT said, especially if it's said in a language that you don't understand.
Teddy Pendergrass "Come Go With Me" – The power of Teddy P can be perfectly illustrated in how his ability to sell out "women's only" concerts. Trust me, kids… You were probably conceived to this very song. Soul music with a capital S, this song is direct and to the point. Come over to my place so we can smash. Any questions? I think not.
Jodeci "Feenin'" – Some might conjure up memories of slow dragging in high school basement parties with this one. But Jodeci was able to take the traditions of classic soul music and translate it to the hip-hop generation. Their sound has aged like a fine wine, and is still guaranteed to get the ladies open for business.
Rhye "Open" – I could have put the entire "Woman" album on this list but I opted for the opener, aptly entitled "Open." The lush sound, masterfully crafted songwriting and production and Mike Milosh's falsetto conjure up the sexy sounds of early 80s Sade. It's an early contender for album of the year in my opinion.
Jeff Buckey "Lover, You Should Have Come Over" – Giving it up to Jeff, RIP… The tragic Crown Prince of the mid 90s NYC indie singer-songwriter scene met an early demise in 1997. But his music posthumously lives on, with its tender and frank and ultimately sexy tunes about love and desire, perfectly captured in this beautiful ballad.
Robin Thicke "Lost Without U" – Who would have thought Alan Thicke's baby boy would have been able to get the ladies open in the way that he does? This is the sound of mature love making for our generation. Smooth and aggressive at the same time, a perfect combo in a song to get lost under the covers with that certain someone.
Prince "If I Was Your Girlfriend" – Could I have made this list without Prince? The answer is no. And whereas it is nearly impossible to narrow a selection to just one, I chose this song from his "Sign O The Times" opus. A mid-tempo groove of a song that has an interesting take on gender reversal, Prince's falsetto lulls you into a false sense of security and vulnerability, but never relinquishes the powerful masculinity behind it. (NOTE: Prince pulls all his music from YouTube so the closest I could get was this pretty cool Esperanza Spalding version – but go out and find the OG.)
Jai Paul "Jasmine (Demo)" – Between this song and "Bitsu" mister Paul is batting 1.000 to me. I can run these songs back to back and like Colt 45 it works every time. There's a definite falsetto theme running in this list, and this is no exception. Combined with his 21st Century Post Dilla-esque style production, this is an ill love jam for NOW.
Massive Attack "Teardrop" – This sublime tune may be standing on the verge of being infinitely played out in hotel lobbies and while shopping at The Gap, but the song don't lie. With the ethereal vocals of Cocteau Twin's chanteuse Elizabeth Fraser, this tune floats higher above in another plane, and is quite possibly (probably) about her love (and loss) of her one time partner Jeff Buckley.
Friendly Fires "Paris (Aeroplane Remix)" – The impeccable Aeroplane transformed this uptempo electro-pop smash into the sublime electro-smash pop where the synths sound like what love looks like in my dreams. A beautiful ode to irrefutable connection and escapism, this version was reimagined by Aeroplane, with the assistance of Brooklyn's own Au Revoir Simone taking on the vocal remix duties – bringing in a wonderful counter of femininity.
The-Dream "Fancy" – Terius Nash knows what he's doing, and with "Fancy" he conjured up visions of spending those sweet mornings where you make such sweet love with your woman that you wanna take her out shopping and spend all your money afterwards. Nash kind of took the formula of 80s R&B and updated it through his unapologetic hyper-masculine 2000 filter. I really never thought that putting a dent in your bank account could sound so sexy.
D'Angelo "Lady" – My generation's Marvin, Sam, Teddy, the voice of sexy R&B for so many of us, and while I could have easily gone to "Untitled" it's "Lady" that really speaks to me with a bump and rhythm that seems to fit rocking the night away so well. Fuck a neo-soul label – this is timeless soul music for the ages, as D sings his heart away about his one and only, declaring his pride in his love for the entire world to witness.
Ohio Players "Never Had A Dream" – Okay, I just want to spend three days in bed with my baby and listen to nothing but Ohio Players. The only time we get out of bed is to flip the vinyl to the other side… Seriously though, is there anything wrong with that? Give it a try sometime and you'll see that I'm not.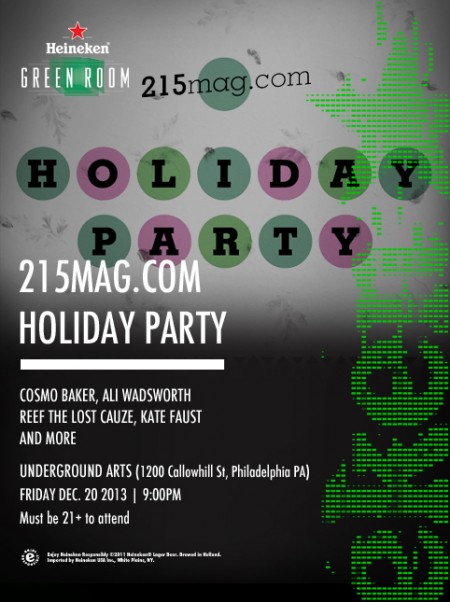 Friday, December 20th, 2013
Heineken Green Room & 215 Magazine Present
215mag.com Holiday Party
Featuring
Cosmo Baker
Ali Wadsworth
Reef The Lost Cauze
Kate Faust
& More
@ Underground Arts – 1200 Callowhill St. – Philadelphia, PA