New Mix – WKDU 91.7 FM 2016 Electronic Music Marathon
Each year, WKDU 91.7 FM  holds a 72+ hour mix show marathon to raise money for a partner charity as well as to raise funds for the radio station and this year the charity was for PAWS – the Philadelphia Animal Welfare Society. I was so happy and honored to have been able to play a role in supporting such a worthy cause for the second year in a row. Thanks to all the hard work of the entire WKDU Philadelphia 91.7FM staff, especially Chris Burrell as well as all the listeners, DJs, donors and supporters for the #2016EMM.  This year raised $2500 which is enough money to help take care of 100 rescued animals until they find their forever homes – and gave us an opportunity to present them with a BIG ASS CHECK.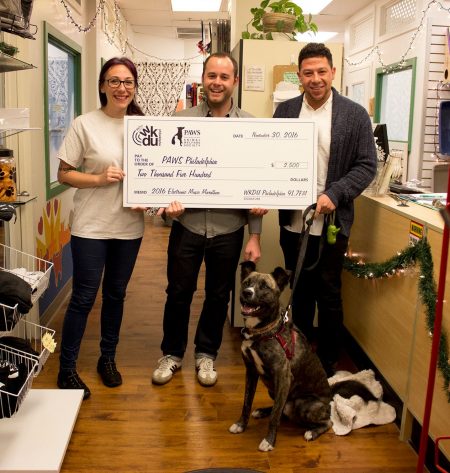 I was honored to have been able to play a set for the marathon and here it is for your listening enjoyment. Most of the stuff that I played here in this set is like the kinda stuff that I'm playing these days. I love this stuff.
Cosmo Baker "2016 Electronic Music Marathon WKDU 91.7 FM"
Track List:
Wet "All The Ways (Branches Remix)"
GoldLink "Late Night feat. Masego (Falcons Remix)"
krs. "Falling"
Louis Lastic "Reactions"
Christian Rich "Still feat. Tune Ige, High Classified & Kris Bowers"
Penthouse Penthouse "69 Camaro feat. Bobby Saint"
Tall Black Guy "The Heart Of The Town"
Sam Gellaitry "Long Distance"
Kaytranada "Killa Cats"
TroyBoi & Grandtheft "Sneaky"
Vindata "Own Life feat. Anderson .Paak"
wntr "can't take it (DJ Pump Edit)"
Stro Elliot "TechStrologic"
Stro Elliot "Mighty Dollar"
Mura Masa "What If I Go?"
Busta Rhymes "Touch It (VANDALIZED EDIT)"
Mr. Carmack "Chillin' With Girlfriend"
Tinashe "Vulnerable (Pomo Edit)"
GoldLink "Palm Trees (Motez Remix)"
Busta Rhymes "What It's Gonna Be feat. Janet Jackson (Kaytranada Edition)"
Travis Scott "SDP (Sammy Bananas Bootleg)"
Bird Peterson "Funky For U Pt. 1: Common"
Foals "Night Swimmers (Mura Masa Edit)"
Full Crate "Bando (Refix)"
Full Crate "Yeah"
Beyoncé "XO (Full Crate Edit)"
Drake "With You feat. PARTYNEXTDOOR"
Jabair "Give U"
Sango "Baile Somebody"
The Eaton Canyon Royal Ensemble "The Beautiful Ones"
The Club Casa Chamber Orchestra "Get Free"