Songs We Listened To A Lot In 2016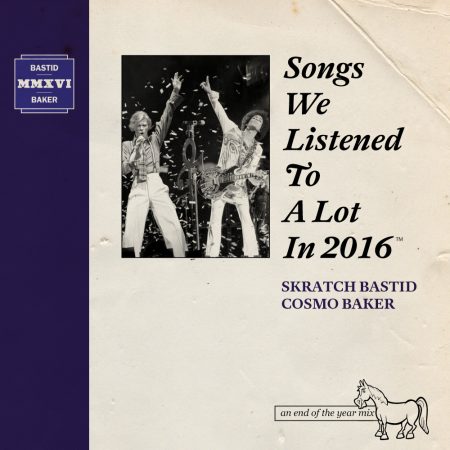 Songs We Listened To A Lot In 2016 by Skratch Bastid & Cosmo Baker
Once again back it's the incredible. You already know what it is. We hope. This being our 5th one, and with a title like that, do we really need to tell you what it is? SWLTALI is a series we have grown to look forward to annually. A mix that tells the story of our musical experience ver the past year. New stuff, older stuff; just great music that we played, loved, revisited, shared, and are now sharing again in the form of this carefully curated and mixed 2 hours and 31 minutes. We hope you enjoy these tunes as much as we do, and if you like an artist's music contained within, find a way to support them.
It seemed that in 2016 (into 2017) there were times when the world seemed to be on the brink of collapsing upon itself, and everything was enveloped in darkness. It's times like these that we need music the most. Music will help us see our way through that darkness and into the light.
And that's about it. Push play, and let it ride…
Joey Dosik – The Night Before… (+ Cannonball Adderley speaks)
Andy Shauf – The Magician
Invisible – Ruido de Magia
A Tribe Called Quest – Dis Generation
Anderson Paak – Come Down
Mura Masa – What If I Go?
Mr Eazi & Juls – Shitor
Gilberto GIl – Toda Menina Bahiana (Tahira Re-Edit Edit)
Heidi Leonore – Everybody Loves The Sunshine (The Reflex Edit)
Solange – Cranes In The Sky (Kaytranada Edit)
Tinashe – Vulnerable (Pomo Remix)
Chance The Rapper – All Night feat. Knox Fortune (Kaytranada Extended Joint)
DJ Stuart – Re-Work
Housemate – Always Here For You (Stro Elliott Mix)
Maxwell – NoOne (UnCut)
Prince – Little Red Corvette (12" Mix Edit)
Foals – Night Swimmers (Mura Masa Edit)
Bird Peterson – Funky For You
Troyboi – And Wot
Rudimental – Healing feat. Joseph Angel
Aminé – Caroline
Z-Ro – Legendary
Christian Rich – Still feat. Tunji Ige, High Klassified & Kris Bowers
Isaiah Rashad – Wat's Wrong feat. Kendrick Lamar & Zacari
Andre 3000 – Solo (Interlude)
BADBADNOTGOOD – In Your Eyes feat. Charlotte Day Wilson
Childish Gambino – Redbone
Wings – Arrow Through Me
The Sylvers – What's It All About
Chronixx – Spanish Town Rocking
Marsha Ambrosius – Have You Ever?
Dennis Brown – Revolution
Cassiano – Onda
Willie Colón & Rubén Blades – Plastico
Mbongwana Star – Malukayi feat. Konono No. 1
Thundercat – Bus In These Streets
Pastor T.L. Barrett – Father Stretch My Hands
Peter Gabriel – Heroes
Artwork by Alex Rhek!