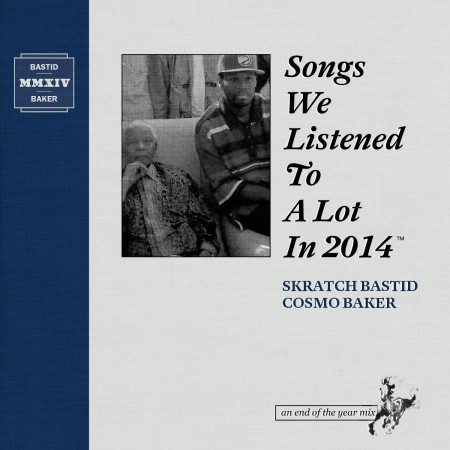 Welcome to Songs We Listened To A Lot In 2014. Another year, another soundtrack.
As you may know by now, this mix and series is different. It's a snapshot of the year, but from a different perspective than your typical year end mix or list. It is not a definitive list of the biggest tunes that came out in 2014, yet our goal is similar – move the listener (whether it's your heart or your ass), and tell a complete story.
It's a story of how music that we all listen to becomes this intangible soundtrack to the experiences of the lives we lead. The same way certain smells trigger memories, songs serve the same purpose. And those songs are not bound by release schedules or media exposure. They hit us when they hit us, and become ours. This mix is about THAT.
Listening to music is catharsis. It's something we need and that we take for granted. We love music, what it means to us, what it does for us, how it makes us feel. This mix is a true labor of love – we hope you enjoy it!
Skratch Bastid & Cosmo Baker Present Songs We Listened To A Lot In 2014

Download link: http://bit.ly/1ApK9tG
Artwork by Rhek.
Track list:
Willie Colon & Ruben Blades – Maria Lionza
Future Islands – Seasons (Waiting On You) (BADBADNOTGOOD Reinterpretation)
Childish Gambino – Sober
Pharrell f/ Daft Punk – Gust of Wind
Sade – Nothing Can Come Between Us (Pomo Edit)
D'Angelo – The Charade
Caribou – Can't Do Without You
Gorgon City f/ MNEK – Ready For Your Love
Vic Mensa – Down On My Luck
Shiba San – Okay (Interlude)
Schoolboy Q – Man Of The Year
E-40 – Choices (Yup)
Popcaan – Everything Nice
American Royalty – Mariah (Kaytranada Remix)
Kelis – Runnin' (Machinedrum Remix)
Run The Jewels – Blockbuster Night Pt. 1
Vince Staples – Blue Suede
Chronixx – Here Comes Trouble
John Holt (RIP) – Police in Helicopter
Junior Murvin (RIP) – Cool Out Son
Boogaloo Assassins – No No No
Jose Feliciano – Golden Lady
Bacao Rhythm & Steel Band – Bacao Suave
Cormega – Industry
Slim Kid Tre & DJ Nu-Mark – Bom Bom Fiya
Dayne Jordan & DJ Jazzy Jeff – Play Dat!!!
Myron & E – Do It Do It Disco (Tom Noble Remix)
The Whispers – Keep On Lovin Me (80's Child Edit)
Alex Metric f/ Oliver – Galaxy
Change – Paradise
Next Movement – All I Do
Kid Sister – Higher
Duke Dumont – I Got You
Nina Simone – It Be's That Way Sometimes
Roberto Roeno – Shades Of Time
Big K.R.I.T. f/ A$AP Ferg – Lac Lac
DJ Quik f/ Rob "Fonksta" Bacon – Bacon's Groove
Aaron Neville – The Greatest Love
Desi Young – I Don't Know Why I Love you
Penny & The Quarters – You & Me