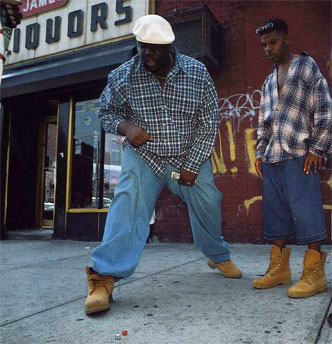 Happy Birthday to Christopher Wallace, better known as The Notorious B.I.G., and always known to me simply as Biggie Smalls. My favorite rapper of all time. And if you don't think he's the greatest rapper of all time, stop smoking that shit.
I remember the first time I heard Biggie rap – I had just come home from buying the latest Heavy D & The Boyz record "Blue Funk" (A criminally underrated album by the way.) So I listened to the whole thing, and finally got to the last song on the album, the posse cut "A Buncha Ni66as" and heard this dude flow for the first time. He bodied the cut, even using the funny noise gimmick "Eeehhh" in his flow back then. But listening to the dude, you knew you were listening to greatness.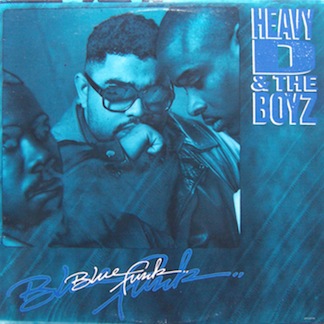 Heavy D & The Boyz "A Buncha Niggas feat. 3rd Eye, Rob-O, Guru, The Notorious B.I.G. & Busta Rhymes" (Uptown, 1992)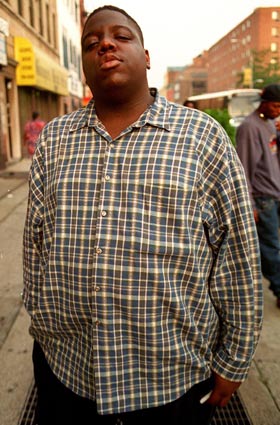 Over the course of the next couple years it was like every time you heard him drop a guest verse, whether it be on a Super Cat record or on a Mary J. Blige record, you knew you were listening to history being made. I'm a Philly dude, I'm not a native New Yorker, but listening to dude rap he was our champion doing it right before our eyes. Biggie Smalls songs were leaked all over mixtapes that we use to bring down from Harlem, and your man was a problem. Then the Big Mack promo dropped, complete in the old school styrofoam hamburger containers, and it was a wrap – nothing could stop Biggie. That was a mad exciting time for me and for everyone around me at the time, and for music in general. Of course he released 2 classic albums and changed rap history and will always be remember as one of – if not the – greatest rappers of all time (thank you Canibus for your one contribution to rap in your paltry career, the "March 9th" line.) But when I think of Biggie I always think of those early years. It was so exciting, and had so much electricity and promise. Miss that dude. There will never be another.
I did this remix a couple of years ago. Of course the original (both the original and the original remix) versions by Lord Finesse are classics. But I wanted to just do a little 21st Century update for the clubs, using the Flaming Arrow flip, and I had to painstakingly add in the samples from Doug E. Fresh and from The Last Poets as well. I always get a good reaction to this when I play it out. Hope you enjoy it.