Back in March when I spun at The Do Over in Miami I think the second or third record I played was one that a whole grip of people kind of flipped their wig about. It was an instrumental version of The Ambassador's "Ain't Got The Love (Of One Girl On My Mind)" which is probably best know to our generation as the basis of Pete Rock & C.L. Smooth's "I Got A Love." Yeah, Ambassadors is a hot record, and definitely a heavy piece, but c'mon son… the INSTRUMENTAL?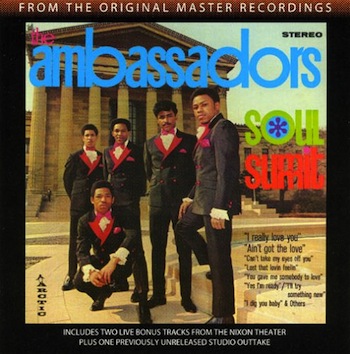 So about 10 years ago my man D*** B**** whom I had known for a minute from around the collectors circuit and just from being "dude" in Philly hit me up and was like "Yo Cosmo, you have to hear these Ambassadors instrumental acetates." Of course I was like yeah fuck you son with them wolf tickets. But he kept on at it about them until I had to figure it out if he was bullshitting. Well, my man was not lying…
The Ambassadors was a sweet soul singing group from North Philly – and Philly was known for its sweet soul vocalist stylings at the time with groups like The Delfonics and the Stylistics. The Ambassadors were discovered by WDAS program director Jimmy Bishop who quickly signed them to his imprint Arctic Records. The Ambassadors released one LP, 1969's "Soul Summit" and they had a minor hit with "I Really Love You."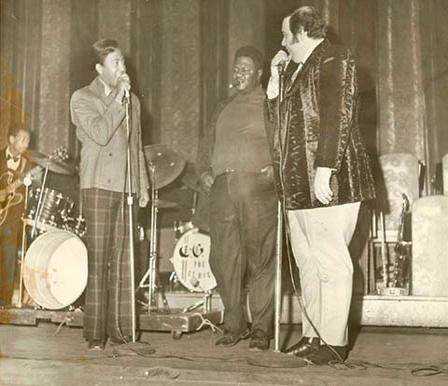 Here's a picture of Jimmy Bishop (left) with Joe "Butterball" Tamburro (far right,) the man who succeeded him as program director at WDAS and is still there to this day, and whom is one of my favorite DJs of all time.
It wasn't until 23 years later that the song "Ain't Got The Love" really became such a sought-after piece. It's an incredible song, actually written by another one of Bishop's discovery's – the incredible Barbara Mason – and produced by Bishop himself. Bishop produced a bunch of music at the time, including the very strange and psychedelic soul tune "Jason Pew Mosso" by The Interpretations.
So my man, the homeboy with the acetates, had this acetate which as an instrumental version of The Ambassadors "Ain't Got The Love" but it wasn't by them – it was by The Sam Reed Band. So it turned out that Sam Reed was a South Phillly based sax player who would session around town as well as being part of the house band at the world famous and legendary Uptown Theater on North Broad Street. Bishop put together a band under his and Sam Reed's direction to do all the music for the Arctic releases. Now I guess that they thought that the instrumental versions wouldn't fly as well as the ones with vocals. To me that's surprising considering who they have playing on these tracks – guys like Vince Montana, Ronnie Baker, Norman Harris, Earl Young. You know, the guys who became MFSB and pretty much CREATED disco and are the living embodiment of The Philly Sound (and the SalSoul sound as well hahah…) Well anyway, even though that acetate is dumb-rare, the song was released on the "Mutha Funkin Sonofa Bitch (The Truth Behind The Philly Legend)" compilation in 2006. This one is by special request, so enjoy!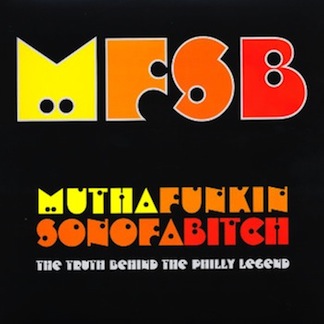 The Sam Reed Band "Ambassadors Theme" (Arctic acetate 1969? / Funkadelphia 2006)
BONUS BEATS: It's been exactly 5 years since Katrina and seems like everyone forgot. I didn't, nor will I ever. Hold your head, Nola. You're stronger than you think, and more inspirational than you know. Here's a nugget from there, just one of many that magical place has given the world. And just in case you forgot, George Bush doesn't care about Black people.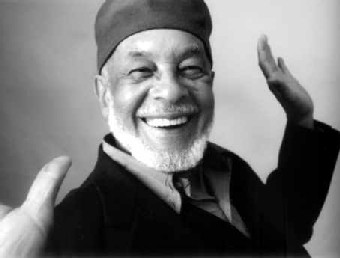 Eddie Bo & The Soul Finders "We're Doing It (Thang) Pt. 2" (Bo-Sound, 1970)