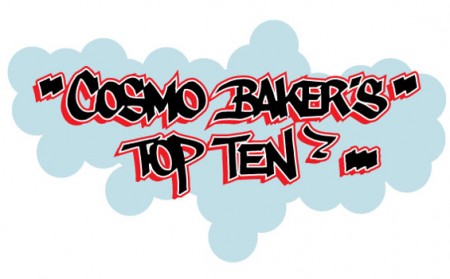 Welcome to the Cosmo Baker Top Ten List Version 2.0! In the past I've always had a monthly list of ten records that I wanted to "chart" and share with my folks. These kind of run the line from older stuff that I've discovered to brand new stuff that I feel needs to get some shine. It's usually a mix of different sounds that encapsulate where I'm coming from as a DJ. I profile a lot of music on my site, but these ten records are the "official" joints pretty much.
It used to be that I listed the records and then had them downloadable as individual MP3s. But after being inspired by my homeboy DJ Fashen, I decided that I was going to start to present the Top Ten in a monthly mix that could be downloadable in it's entirety. Couple different reasons – first of which being that it switches the emphasis and brings me as a DJ into the equation. I don't plan on making these mixes super involved or anything, just a solid presentation of the songs. The second was that I get a lot of early and exclusive shit and in the format of a mix, I'm actually able to share this with you guys.
So here it is – Cosmo Baker's Top Ten Mix for January 2011. It starts off with the late great Lady T and then goes into overdrive of just some joints that I'm really feeling, both new and old. Hope you enjoy it!
*Edit: My cousin who is don dada of all this web shit is in Paris right now for the holliday, so when he gets back we'll sort out a way to bring together the sidebar Top Ten jawn with this. Excelsior!
– Cosmo Baker, December 2010