New Cosmo's Crates on Fool's Gold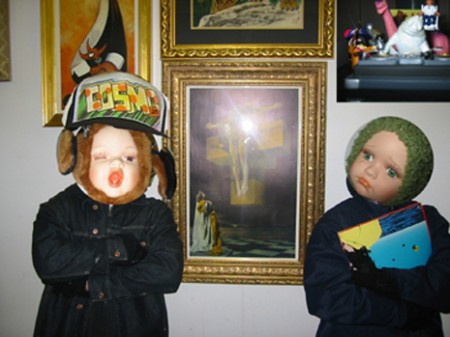 Okay, so do you see the above picture? This was taken at an undisclosed swap meet about 45 minutes outside of Philly. It's a picture of me (with the "Cosmo" hat on, duh) and super-dude RJD2 after going to said swap meet at like 5 in the morning. But something happened between the taking of the photo and the way it came out. Apparently some really frightening doll heads had been superimposed onto our faces. This deviant work was done by the man behind the camera, Wes Pentz aka Diplo. He also convincingly added an image representing himself – the manatee – in the picture frame top right.
And that's says a lot about the homie – he really has been on some other shit for life. And even though he's killing shit right now as a super top-dog dance DJ and producer, Diplo has always been running in his own lane. And that's just one of the things you got to love about him. So this week's edition of Cosmo's Crates on the Fool's Gold blog speaks about him and his crate-digging past.