My Top Ten Old-School Skateboard Stuff List
I've been a skateboarder all my life starting from way back in the 80s, and was deeply involved with it for a long time, along with my family (my mom opened Philadelphia's first "real" skateboard shop back in 1985, "Spike's Skates" and owned it for about 6 years afterwards.) Needless to say, these were formative years to me, and being a skateboarder was a natural thing for me. Time passes, and things change. I became more interested in girls and graffiti than skateboarding. Years passed and a car accident made it so that I'd probably never skate again. But once it's in your blood you never shake it. To this day, I'll see rails and lines and ledges and instinctively see the run in my mind like it's second nature. That's because I guess it is.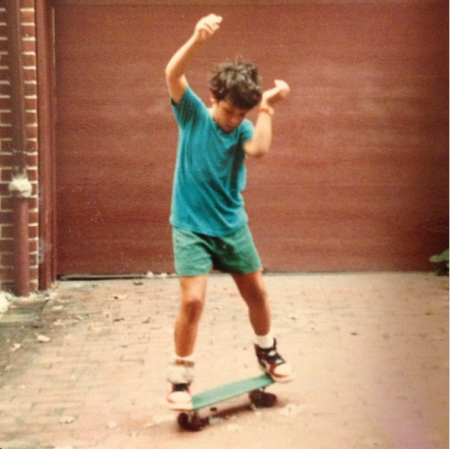 My friends in Finland, Helsinki Hookup, had me over last year to DJ for their annual pro skateboarding contest and it was amazing. Not too long afterwards, knowing my skating lineage / pedigree, the asked me to write an article for their magazine which would consist of a list of anything skate related that I wanted. So I decided to list my Top Ten Favorite Old-School Skate Decks – most of which I owned and skated at one point. Then I decided to list me Top Ten Favorite Old-School Philly Skate Spots, giving my Finnish friends the bonus. Here's the article but obviously it's in Finnish so most of you can't read it, but it's transcribed below. Thanks and I hope you enjoy this – Skate of Die!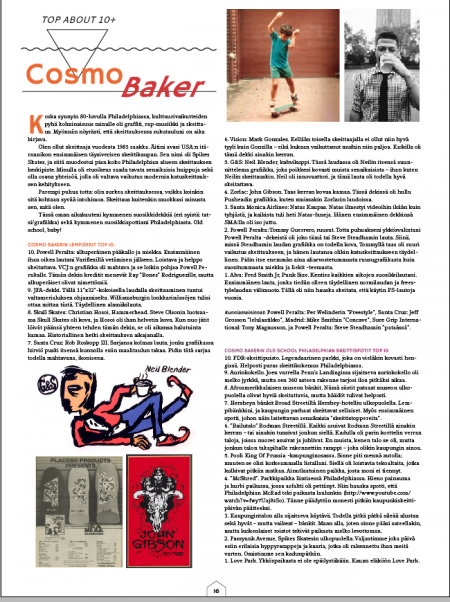 Growing up as an 80s baby in Philadelphia, the Holy Trinity of cultural influences for me are easily graffiti, rap music, and skateboarding. I humbly admit that I have quite a rich pedigree when it comes to the skateboard world. Being a skater since I was a little kid, in 1985, my mom opened up what was the first strictly skateboarding store of its kind on the East Coast of The USA. It was named Spikes Skates and quickly became the epicenter of the entire skating community of Philly. I had the privilege of meeting some of the top skaters in the world at that time, as well as being part of a skate community that help define modern day street skating as we know it. I am not going to lie – I kind of sucked at skating, even though it was a passion pure of heart. But skating made me the man that I am today. Of my era, here are my top ten favorite decks (for various reasons, from the "rideability" to the artwork) as well as my top ten favorite Philly skate spots. Let's get OLD SCHOOL, baby…
Cosmo Baker's Top Ten Favorite Skateboard Decks
#10 Powell Peralta Original Sword & Skull: My first REAL board having graduated from riding a Variflex, this board was a great yet simple board to ride. And the VCJ artwork was so killer, and created the template for Powell Peralta. This board is attributed to OG Ray "Bones" Rodriguez, but the original designs were no-name.
#9 JFA Deck: At 11" X 32", this thing was like riding an aircraft carrier.  Pussy ass Williamsburg long-board riding punks need to get on this level. Perfect for cruising down the street.
#8 Skull Skates Christian Hosoi Hammerhead: Steve Olson's Skull Skates was bad-ass, and Hosoi was as bad-ass as they come at that time too.  So when they linked up, and then they released his deck, it was the most anticipated of the time. It was definitely a defining moment.
#7 Santa Cruz Rob Roskopp III: The third in the series, this one was where the artwork really showed the monster really breaking out from behind the target. I always thought this series was so dope, and quite iconic.
#6 Vision Mark Gonzales: There wasn't any other skater that had as much style as Gonz, or who arguably influenced as many. Everyone had one of these at least once.
#5 G&S Neil Blender Coffee Cup: This board had artwork that Neil did himself, and it was a departure from what everyone else was doing at the time, much like Neil's skating. Dude was a true original, and this board was so much fun to ride.
#4 Zorlac John Gibson: Another monster deck, this John Gibson joint had the crazy Pushead artwork, much like the rest of the Zorlac line.
#3 Santa Monica Airlines Natas Kaupas: Natas kind of came out of the blue when we first saw him on videos, and everyone became an instant fan. The release of his first deck on SMA was kind of a big deal.
#2 Powell Peralta Guerrero Roses: Truthfully my final Powell Peralta pick was between this and the Steve Steadham deck. But while the art on Steadham's is incredibly boss, there are not too many people that had an impact on our skating like Tommy, and  his board was designed perfectly for street skating. I always preferred the understated roses design than the more popular sword & flames one.
#1 Alva Fred Smith Jr. Punk Size: Possibly my favorite board of all time, it's the first board that I knew of that was the perfect size between a regular sized deck and a freestyle deck. So much fun to shred on this, I rode a Fred Smith for years.
Honorable Mentions: Powell Peralta Per Welinder Freestyle, Santa Cruz Jeff Grosso Toy Box, Madrid Mike Smith Concave, Sure Grip International Tony Magnusson, and the Powell Peralta Steve Steadham Ace Of Spades.
Cosmo Baker's Top Ten Favorite Old-School Philly Skate Spots
#10 FDR Park: The spot is legendary and still going strong. The most complete skating experience in Philadelphia, hands down.
#9 The Sundial: Down on the river at Penn's landing, this sundial had small, steep banks but its 360 degree design was tons of fun.
#8 The Afro American Museum Banks: These cool statues outside of the museum were great to ride but security would be quick to chase you away.
#7 The Hershey Banks: Right on Broad Street outside The Hershey Hotel, these were some of my favorite – and most ridable – banks in the city. It's also the first spot that I ever saw the powers-that-be put metal coping on the banks to keep skaters from shredding the spot.
#6 The Party House on Rodman Street: Everyone lived on Rodman Street at least once, or at the very least, they knew someone who lived there. It was basically 2 blocks of houses where kids lived and partied. I can't remember whose house it was, but some skaters built a half pipe in their backyard. It was the only one in the city.
#5 The King Of Prussia Dustbowl: You needed a car to get here or else it would have been higher on my list. But this was a system of dry reservoirs that were sick and went on for a long distance. No other spot like it in the area, but only a few people knew of it.
#4 McShred: This parking lot in West Philly had a great dip and curb where the asphalt had caved in. So much fun, Philly's own McRad made a song about it! After skating through the city all day, this usually was the final destination.
#3 City Hall Concourse: The concourse underneath City Hall was miles of smooth riding with some great – but tricky – banks. The best thing though was that it was underground so you could skate there rain or shine, but it did get pretty shaky down there with thugs and criminals.
#2 Passyunk Avenue Outside Spikes Skates: Every day, we would pull out the various launch ramps and quarter pipes that were built specifically for us, and we would own the street all day long.
#1 Love Park: Duh… Long Live Love Park.