We're all out there looking for our perfect beat, but sometimes we don't even know it's there right under our noses the entire time.
Back in late 2010 I started writing a column for my friends at Fool's Gold Records for their blog entitled "Cosmo's Crates" – which became some sort of internet validation of my lifetime of record nerdery. It was always fun to write about songs that I cared about (even if nobody else did) and to try and do the math and connect the dots between some of these forgotten gems and how they impacted music and pop culture that we know it today. The Fool's Gold blog soon gave way to Cosmo's Crates taking a different more visual form, and that's something that we're still looking to have happen come early 2015 (more on that later so stay tuned to YouTube) but recently I was reminded that there was this whole facet of my record game that I don't always share with my people.
Cue up Steve Masson, or Mister Masson as his students call him. Steve is a teacher of AP Language classes at Highland High School, Highland NY. The good teacher hit me up this week to let me know he's reading a piece that I wrote about Run–D.M.C.'s "Here We Go (Live At The Funhouse)" as an example of a well written analysis. As Steve told me, "Students struggle with criticism. It's hard to articulate emotional and intellectual responses to art. But a good piece of criticism can open the reader up to looking at art and the world differently. I've heard "Here We Go" 100's of times, know it by heart. But I never noticed the flaw… I will now, every time. And finally, good criticism is about more than just the object. We'll talk about the song/flaw/your interpretation as a metaphor for hip hop culture itself."
I'm honored to be a part of Mr. Masson's curriculum and it makes me proud to play a part in expanding young minds. So thanks Steve, and a really big shout out to all the kids in Mr. Masson's AP Language classes at Highland High School!
Here in their entirety are the two pieces I wrote about Run-D.M.C.'s seminal "Here We Go" originally published in January 2011 on Fool's Gold and in August 2013 on HiLoBrow. Hope you enjoy!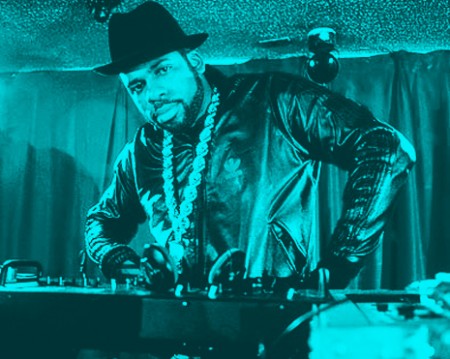 Whattup, folk? After a whirlwind mini-tour this past weekend, I'm back in Brook-Nam and ready to drop some jewels for you – albeit a little late. So you know, when it comes to my crates, I have a gang of shit in the arsenal, don't get it twisted. I could imagine that this week might be looked at a little bit as somewhat of a softball. But truthfully I don't give a fuck because even though these records might not be totally obscure, they are without question VERY IMPORTANT RECORDINGS within the pantheon of American music. So sit back and listen…
Now I don't like to celebrate death dates. I would rather celebrate the life of those that have passed, acknowledging what they gave to us while they were here with us. The only case where I give daps to an artist on the date of their demise is on Christmas Day, which will forever be James Brown Day to me. (In essence, every day is James Brown Day, it's just that falling of his death on that day actually gives us the official day off.) But yes, I do remember birthdays, and today marks the birthday of the late great Jason Mizell AKA Jam Master Jay.
If you want to talk about DJs that changed the game, this dude was it. As the musical foundation of the legendary Run-DMC, Jay became the first real global superstar of the hip-hop DJ world. He was THE BAND, using routines that he picked up in the parks and bars of his native Hollis, Queens. Armed with 2 turntables, Jay helped guide his band members' distinctive sound, ushering the group into worldwide fame and technically starting a new era of rap (take note – TECHNICALLY, the difference between "old school" and "new school" rappers all comes down to Run-DMC. They were truly the first "new school" rap group.) Jay's influence transcended the music, as he was the man behind the scenes crafting their trademark fashion sense, which at this point has become iconic and is aped by people who haven't ever heard any Run-DMC records.
But let's talk about records, or to be specific, a record. "Here We Go (Live At The Funhouse)" is for my money the greatest singular live performance of a rap group on wax ever. EVER. Recorded in 1983 (but not pressed up and released until '85) this 4 minute masterpiece truly captures the spirit and soul of hip-hop. This record was a live record, recorded at New York City's legendary Funhouse club. 4,500 kids in attendance, with nothing but 2 emcees, and the one Jay rocking like a band. And man does he rock so well. I can only imagine the electricity in the air that night, as the city prepared to watch their new hometown heroes. At the very beginning you hear him cutting up the quickly syncopated kick/snare from the "Big Beat" record (more on that in a few) with Run and D engaging the crowd on the mic. And in those words you will hear phrases that you've heard a thousand times in too many songs to count – phrases that have ingrained themselves in our collective consciousness. "How you feel out there" – and you know it. "And it goes a little something like this" – and you KNOW IT. And "Aahh yeah" – which we all know, and to this day I can't listen to without thinking of another one of our dear friends that has left us, the late great Adam "DJ AM" Goldstein. And then "it goes a one, two, three, and…" And here we go. Run and D attack the mic and the crowd and the routine with a ferociousness and fluidity that is unparalleled. Fresh rhymes and word play, back and forth, in complete unison with each other and the band, Jam Master Jay, rocking like a fucking machine. The "Big Beat" drums rain down on your ears and set the perfect tone for the aggressiveness that is the routine. And it's just drums, that's it. There's no need for any more music than that. And there's a complexity in the sparseness when it all comes together with the way Jay goes back and forth on the 2 records behind the fellas. And case in point, to show how in tandem they are, at the 1:10 mark the record skips a beat just slightly, but Jay is able to catch it perfectly and get back on the beat, with Run and D making the slight adjustment and they all continue on, not missing a step. Listen for it. It's the perfection in the imperfection, and in my opinion one of the greatest "mistakes" in recorded history.
This routine is perfect. This record. It is PERFECT.
And to me one of the facets of the perfection is the source of the drums, Billy Squier's "Big Beat." Nowhere in the world will you find more thunderous drums, so absolutely unique. The drum pattern is simple, but calling them effective just doesn't do it justice. They knock to fucking holy hell. Squier was nowhere at the peak of his career as arena rock demigod when the 1980 "Tale Of The Tape" came out. But it definitely set the tone cause this shit rocks hard. And I've often thought about whether or not these artists that are so often sampled knew how tight the parts that become recycled were at the time. Of course this dude knew. He named the damn song after the drums in it. To this day I still think of "Big Beat" as being top 5 easily when it comes to hard hitting drum breaks. Jay knew it. Jay-Z knew it 20 years later. And 20 years later, they still have the same effect. RAW POWER. It still sounds as bad, and as fresh, as it did when it was recorded 31 years ago. And that's something else…So yeah, call this a softball if you want. I'm only talking about one of the greatest songs of all time, using one of the greatest snippets of recorded music of all time, performed by one of the greatest hip-hop figures of all time. If you don't see that, then I have a strange micro-genre of music to sell to you. Would you be interested in some mosquito house?
Happy birthday Jam Master Jay. May you rest in power and shelltoes. (Originally published by Fool's Gold, January 21st, 2011)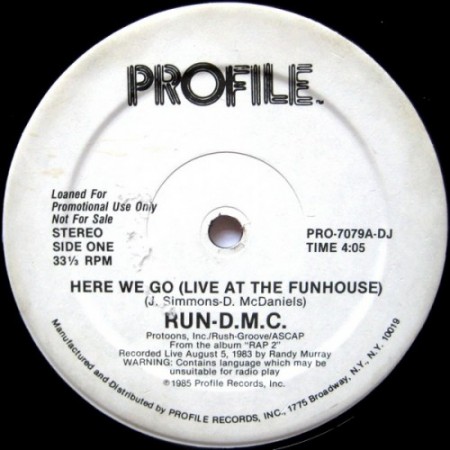 HERC YOUR ENTHUSIASM 21: Twenty-first in a series of posts analyzing and celebrating old-school hip hop.
RUN-D.M.C. "HERE WE GO (LIVE AT THE FUNHOUSE)" 1983 by Cosmo Baker
Let's get one thing straight before we proceed – I know this record was released as a single in 1985. But "Here We Go (Live At The Funhouse)" was actually recorded in February 1983, and it's a rare example of a single that's sourced from a live performance (Run-DMC were keen on using turntable wizardry to create songs, "Beats To The Rhyme" for example.) And yes, I know technically Run-DMC as a group in itself is the actual dividing line between the true "Old School" that was disco-rapping and the "New School" Larry Smith-inspired sound that would usher in rap's first Golden Age. But this song to me is the ultimate testament of the true essence of the DJ/MC dynamic that is hip-hop. And it's a perfect peek through the window to see the well-oiled machine that was Run-DMC.
Picture this: You're packed in the sweatbox that's The Funhouse, one of Manhattan's most wild and notorious nightclubs of the era. It's a cold February night but the condensation of everyone's breath inside is making the walls sweat, the ceiling drip. DJ Run is on stage and asks the crowd "How y'all feel out there" to which you and the rest of the room hoot and whistle as a reply. DMC says "Ah yeah" and then you hear Jam Master Jay start to scratch a powerful kick and snare as he spins the record back and forth, getting ready for launch. After a few more words THE BAND rushes forth into a brand new routine, two turntables and two microphones, powered by the BIG BEAT that is Billy Squier's "The Big Beat." On time, locked in tandem, as one, three artists delivering a performance like they've done it countless times before.
And then everything gets fucked up.
You didn't hear it. Nobody did at first, it was only just a split second that nobody would have even picked up on. But it was there, at 1 minute and 10 seconds into the performance. Jay's hand slipped. Or perhaps the sweat from the room got on the record and made it hard to cue. Or maybe he just wasn't fast enough (doubtful). Whatever the reason, he missed his cue on the doubles routine. He didn't bring "Big Beat" back fast enough. It came off beat. Part of Billy Squier's "Iiiii" seeped through. It could have thrown the entire routine off.
But it didn't. Jay caught it and went back on beat. I picture Run and D looking at each other and at Jay, aware of the mistake, and they bennnnnnd their words and allow everything to snap back into place as Jay rushes the one turntable back into position. The danger was real, the cataclysm was right there, and it was avoided. And they rocked their way into history.
I believe that one finds perfection in the cracks, in the imperfections. That one moment defines this song to me. A perfect hip-hop song, defined by a flaw. Now picture that. (Originally published by HiLoBrow, August 26th, 2013)