There's a holy trinity of the things that I've always been in to that definitely formed the man that I am today – rap music, graffiti and skateboarding. I never would have though that when I grew up at least one of them would be how I make my living and be what I'm kind of known for, this DJing thing. And I don't write graffiti anymore but like I've said in the past, once a writer always a writer. And even though I still get the itch every once in a while, I curb myself. But I still like to be involved as much as I can, from checking fresh tags on the streets to staying abreast of other programs, such as Tatu X-Men's Paint Straight program (shout out to Chino and to my little homie Christian.)
The only one out of the three that I don't do is skate, a, Spend that's not because I don't want to (I recently tried during our Shotguns, Sixpacks & Serato tour much to chagrin of my wife.) It's just that I'm a cripple – excuse me, disabled – after a terrible car accident about 12 years ago. So my legs just don't work that way anymore. But the desire never left me. Like a graffiti writer who sees a wall and immediately in his or her mind comes the idea of how a tag or piece would look on it, like a DJ who when they  hear a specific piece of music immediately thinks about what it would be like to rock doubles of it, when I see a smooth ledge or rail or sweet bank, immediately I think about how great it would be to ride it. But tough breaks and that's just not in the cards for me, as much as I still feel the pull.
In 1985 my mom opened the first skateboard shop in Philly, Spikes Skates, which was located on the second floor of the original Mitchell & Ness shop. Immediately all the kids in the city had a haven, a chapel, a place of congregation. You're probably thinking damn that must have been the best thing in the world, growing up with your mom who owned a skateboard shop and guess what – you're absolutely right. Skating is what made me the dude I am today. I met so many lifelong friends during the time was open, as well as being exposed to some of the greatest skaters of that generation. And I have to thank my mom for that, so… thanks mom!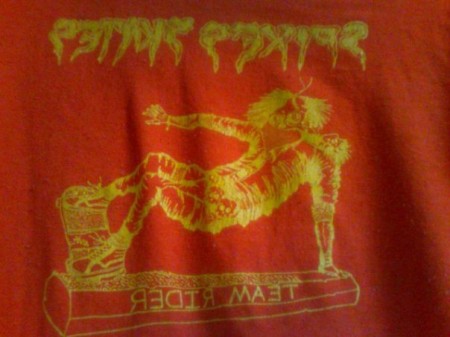 Original Spikes Team Rider shirt designed by Tony Vogdes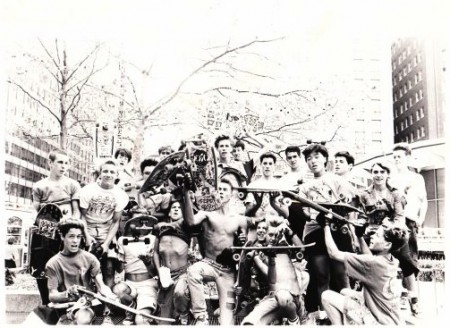 Spikes Riders at Love Park circa 1987.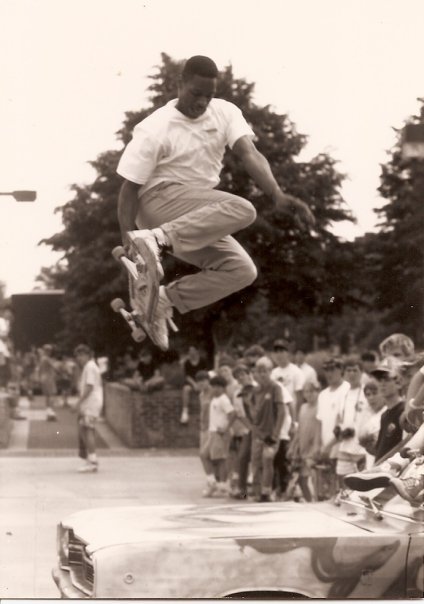 Roger Brown catching air over a car at one of the Spikes contests / expos at Tunn Tavern, 1986 / 87.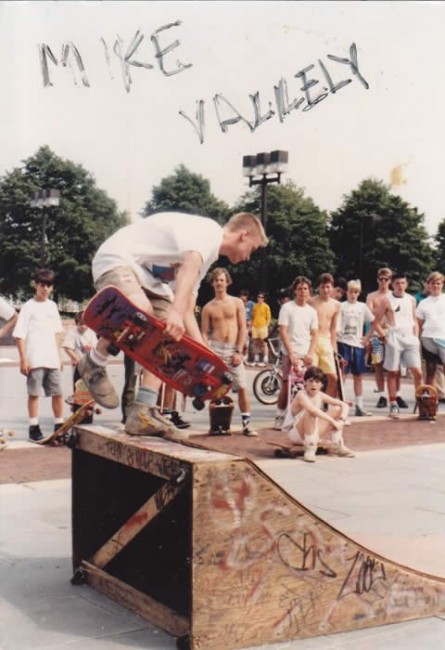 Mike Vallely on a ramp at one of the Spikes contests / expos at Tunn Tavern, 1987 / 88.
My homeboy Ari has organized the Spikes Skates 25 Year Reunion that will be taking place in Philly this Saturday afternoon. If you're in the area come though and share in the love and the memories. It's going to be a great time.