So yo, not only has it been mad long that I've had a special guest up in here to do a Breakbeat Tuesday, but it's actually been mad long since I've done one myself. That last half of a year was a monster for sure, but now that 2011 is over and the dust has settled, it's comforting to get back to normal routines and columns. So for the inaugural edition of Breakbeat Tuesday, I decided to holler at one of my boys and have them do a guest spot. I am really jazzed about this one, cause if there's anyone that really fits the bill as "Master Digger" is this guy right here – the one and only Kon. Now a lot of people know him as one half of the legendary digging duo Kon & Amir. Some people know him as super disco master DJ. A few people know him as all-around balls to the wall Boston based party rocker. But Kon has been KILLING if for years on all those levels, but really the shit that he kills me with is his original edits. Where he gets these parts, I don't know. But for my money he's the best in the business. And thankfully I am like one of an actual handful of people on this planet who gets the chance to actually get their hands on them. And guaranteed every time I play a Kon edit, someone is on me like white on rice about it.
Dude is incredibly talented and versatile in this, and has been busy as much in the studio as out. There's Kon & The Gang LP in the works for summer 2012, as well as a new house project collab with the Whiskey Baron under the guise " Nite Time " out in March on Australian label "Future Classic."  For now, check his "Sunlight" 12″  here out on Social Disco Clubs' H.O.T. imprint as well as here for his BG's multi-rework. For more music you can check the mix he did of his multi reworks for Gilles Peterson (note that this isnt Kon & Amir, thats a mistake) here. There's also a grea mix he did here for Moscow's Kult Club, generously featured on fellow Bostonians Soul Claps own blog. But ENOUGH about this guy from me. Let's hear from the dude himself.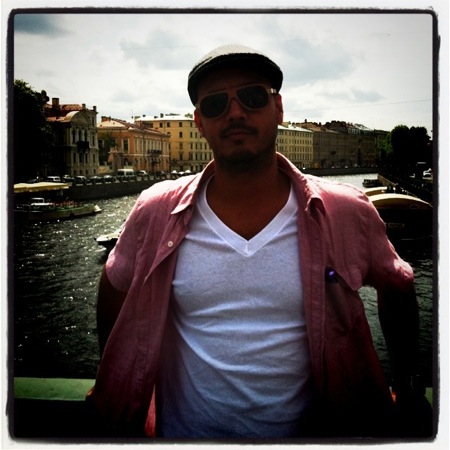 Yoooooo
I'm with
Amir
and the homie, most of y'all know… the Funky President himself, the world famous
Jrocc
. So after smoking some of Jays finest medicinal marijuana, the best L.A. has to offer (some of us are sick heheh ) Jay takes us to this spot in Compton. We walk in and the owner and employees already know Jay and hand him a pile of records already picked out for him. Oh worrrrrrd… its like that !
So the spot has records everywhere but nothing in any type of order. We scatter like roaches and claim our little sections to go through. I start with the 12″ section… thinking I may come up on Jackie Cole 12″ for $3 (I wouldn't think of paying what it commands!) The 12″s are set up like this: Pointer Sisters 12″ is next to Dead Or Alive's "You Spin Me" which is next to Donna Summer, and so on. After skimming through the 12″s I found nothing. I head over to the LPs section which is set up the same way… Same old shit we all see, Patrice Rushen, Kenny Rogers, you know. But  of course there's some things I didnt know, like this LP by Glen Smith. It had the look, private press, back cover with dudes and bad haircuts… and I think it was $3.00. I may or not be blowing up the spot on this LP, but seems people dont really know it. I think its a Seattle record (Toronto & West Virginia – Ed.) so homies like Mr. Supreme & Jake One, may have it, but I didnt. Hey, were always learning, right ?
This track is what I refer to as a "B-Boys Delight." Over 120 BPS, drums that bang and swing… and go on forever with a couple sections with piano and dialogue that you can have fun with doubling up on. This was really the only thing I copped out that spot. I cant remember what Amir copped (prolly some jazz record you listen to while dropping the kids off) and I think Jrocc bought his 38th copy of James Brown's Funky President.
So… for those that still give a shit about a quality break, and like this one, get at me – I got extras!