Our friends at Red Bull Music Academy wrote a wonderful piece about the legendary Back2Basics – the club night in Philly where I (among others) got our real first start in this DJ world. Memories are faded, and there's no photos, but it all happened, and I'm very grateful for having had this opportunity. Check the article here.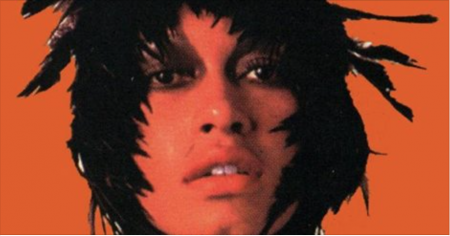 This club night was really my first intro into what would be the my career as a DJ and was – and still is – inspiring to me in every sense. I'm so thankful and grateful for what B2B, King Britt, DJ Dozia and the rest of the club community has given to me and I'm honored to have played a part in this. Here's the unedited version of my part of the interview.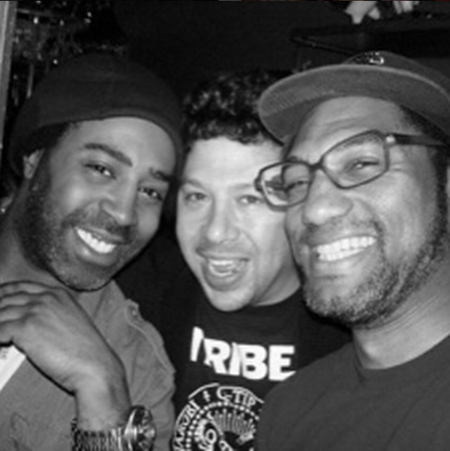 DJ Dozia, Cosmo Baker & King Britt at Back 2 Basics Reunion – 2006
When did you first meet King and Dozia? What are your memories of this first (and early) encounters?
I honestly can't recall the first time I actually "met" King but he was definitely in my orbit for a long while before we became acquainted. At one point he was the 12" buyer at the local Tower Records and I would see him walking down South Street in the early 90s when I was just a young kid, and he had so much swagger and would be dressed the freshest and craziest vintage gear. Every time I saw him I'd just say to myself  "There goes the COOLEST cat in town" haha. At some point he ordered the entire set of Ultimate Breaks & Beats for Tower and I went there buy buy a copy of every single one, and at that point he came up to me (he didn't know me at this point but by that time I knew who he was and what he was doing in the city) and he was like YOOOO MAN CHECK THIS OUT THIS IS CRAZY MAN WE GOT EVERY ONE. And he was so psyched about this, and was totally sharing his enthusiasm with me.
Finally when we first properly met, it was at this annual African street fair called Odunde. Me and my friend Steve "Espo" Powers went to go buy some records form one of the vendors. Dude had all his records leaning up against the wall and me and Espo were just ripping through the stacks, pulling out heat. Then I looked directly to my right and there was King, digging through the stacks as well. I was like "Holy shit this dude is like my DJ hero and we're digging in the same stacks together" and started getting like giddy and shit. But all the time when Espo and I were pulling joints out of the stacks and showing hem to each other, King was peeping our game HARD out of the corner of his eye, really sizing us up. I kind of forget how it happened, but at one point I think he pulled out the eponymous Cymande album and showed it to me and was like You up on this? I was so I hit him with the GOT THAT haha, then not too long I think I pulled out a Rotary Connection and was like Yo, you up on this? He was like nah and we got to start rapping about music and digging and he was Yooo, you guys MUST be from New York! And we were like Nah man we're from Philly!
As for Doz, I met him afterwards through King. Dozia would always be holding court in the clubs where I I couldn't get into, and he was like most popular dude, always dressed fly, looked like a male model, like he emitted that "star quality" just naturally so I was super intimidated by him. But then when we started talking he was super cool and down to earth, and in essence he was just as much a music nerd as I was. So it was awesome. And at the time I kind of was looking at this community as being the next group of "young lions" and we all were pretty enamored with the old jazz scene in general. Then when I found out he was related to Art Blakey I was holy shit – it all made sense.
King mentioned a story about you sitting outside Silk City listening to their sets to pick up on records because you were too young to attend? Could you give me your take on that story please.
Well before B2B was at Silk City they used to do this party at this place uptown called Metropolis. It was those guys and also another DJ in the scene Jeff Natt, who was super up on all sorts of world music. I was probably 15 or 16 at this time and even then I looked young for my age, so there was absolutely no way anyone would let me into a 21+ club. I didn't even try, but I would go and sit outside for hours on end, just trying to soak up whatever tunes they were playing that I could hear through the windows. It would cold as hell outside and I'd be there sitting on a stoop, probably reading a book, writing notes in the margins, just desperate to get a glimpse of what was going on inside. When they moved to Silk City I pretty much did the same thing, although by that time the party had become so popular that there was just as much traffic outside with people coming and going that it was a party in it's own right. But there I'd be, young Cosmo who's way too young to get inside, listening to everything that was going on inside and soaking it up like a sponge. But by this time I was a full-fledged graffiti writer and my insolent teenager levels had reached critical mass, so I definitely TRIED to start getting inside. The doorman's name was Big Jay, who's really the sweetest guy in the world, but also the biggest – like Big Jay must be 6'10" / 300lbs – and I would be SO cocky and confrontational with him that I drove him crazy trying to get in! He must have wanted to kick my ass so much haha… What was I thinking?!
How did you become involved with B2B and end up a resident there?
One of my first real residencies was at this after hours club called Revival. It was this incredible den of iniquity where there was rampant drug use, tons of sex happening in there, a sexual energy with lots of people just going nuts, lots of trans club kids and party people, and I was just this young innocent 17 year old kid. Literally my introduction to the club world was spinning on the ground floor of the city's most debaucherous nightclub. All this crazy shit was happening around me and I was like "Hey guys, I just wanna play my Organized Konfusion and Roy Ayers record" hahah. King rolled in there one day, and it was maybe for one of the Don't Fake The Funk parties they had there, and I was like holy shit – here's this dude who's my secret DJ idol, and he's walking through the same room that I'm spinning in. I was shitting bricks. And I thought he was just walking through on his way to the second floor, where the big dancefloor was, but instead he stopped in my room and took a seat directly in front of me probably like 15-20 feet away. He was just in there holding court and hanging with all these hot chicks, and I'm over here trying to hold my composure and keep my mixes together, all the while my face was pouring with sweat! And he'd look at me every once in a while and nod his head when I dropped different beats. By the end of the night he came over and was talking to me (I was literally starstruck at this moment) and was asking how I liked playing there at the spot and then asked how much money they were paying me. I answered honestly – $35 a night – and his face turned white and his jaw hit the floor! He said MANNNNN, I gotta get you to play at Back 2 Basics!
When I did finally play at Silk for B2B, I was so nervous but once I started playing I just fucking blacked out and went in HARD with all sorts of hip-hop, reggae, classic joints, and people lost their mind. I don't think that, at least to that point, I was ever so much "in the pocket" as I was that night. Definitely came out swinging and had something to prove. People we screaming, sweat was dripping off the walls, girls were trying to jump over the DJ booth to hawk, I was so in the zone. Definitely one of the most incredible DJ experiences to that point, probably ever. So King and Doz asked me back a few months later, and then a couple months after that, until they eventually asked me to join the crew. I couldn't even believe how fast it all happened, but in my mind I had finally made it!
How important was B2B (if at all) in helping you develop your craft as a DJ?
It was integral to my development. I was a fan of the kind of "far out" and different stuff that King and Doz were playing, all the cool UK imports, jazzy hip-hop, old funk, that was all the shit I was into. So playing at B2B was an opportunity to play those things out for a crowd and dancefloor that was also into that type of alternative sounds. Also to be able to have a crowd that was a constant, on a weekly basis, who would be there in such a devoted fashion, it allowed me such great leeway to try new things and ideas and to have you crowd give you immediate (almost always positive) feedback.
Dozia and King mentioned that DJing at B2B was a tricky affair with no monitors and a 'wobbly' platform for the turntables? What was it like for you DJing there, and what made it enjoyable despite the technical issues?
Oh yeah, it was definitely bootleg as shit! But that was definitely a cool thing and part of the allure. We would be stuffed int the DJ booth, all our crates of records, literally crates stacked on top of each other. Silk isn't a big space at all either, so you literally felt like everyone was leaning on everyone else, and those masses of people were stuffed up against the DJ booth. There would be issues with low end feedback so you'd have to be careful playing records that were pressed shitty, and once in a while you'd have the record skip or someone would bump into the booth. But that was kinda all part of what made it special. There was always a sense of danger or that it would just completely fall apart by the end of the night. But it never did, we'd always end up rocking through it!
How would you describe the music at B2B (both the Saturday and Monday events), what are some stand out cuts for you through the years there?
It was incredibly eclectic. And between King, Dozia and myself we all brought something unique to the table, and we all learned from and played off each other. Playing alongside Doz made me step my house music game up, just to keep up, and I'd always try to find some dirty funk that I could unearth in an attempt to wow King, and at the same time I was bringing a lot of current hip-hop and beats into the mix. But that's what made B2B special from the very beginning. It was all over the place – these guys playing A Tribe Called Quest and Jamiroquai, awesome UK breakbeat stuff alongside rap and dusty funk and garage house and photo drum & bass. King and Doz were so open on all types of music that nothing was out of bounds, as long as there was a soulful edge to it. Kind of hard to say what some stand out cuts were – I'd say maybe the first thing that came to mind was Masters At Work "The Nervous Track" – that sound definitely encapsulates what was going there.
How would you describe the atmosphere at a typical B2B event?
Really sexy and bohemian, multi racial and everyone dressed super fly in their jazziest outfits. And locked in unison to the music that was being played. It really felt like a family vibe, and I know that's cliche but here it definitely rings true. It also felt as though collectively, everyone kind of knew that this scene was special and something that hadn't happened before in Philly. Like everyone kind of felt that we were all creating something brand new.
What would you say is the importance of Back 2 Basics to Philly's nightlife and music scene in the 90s? It strikes me that it was perhaps another focal point for what came to be known as the neo soul scene/sound, in terms of the band members and guests. Another important point seems to be that it was a space where live musicians and DJs could experiment.
I think there's a thing where scenes reach a cyclical zenith every few years, and the "neo soul" scene in Philly was definitely one of them that had global reach. But there definitely would not have been that scene or at least to the extent of how potent that movement was, were it not for B2B. It was the jumping-off point for a lot of us as DJs and musicians. B2B ran things for many years and it instilled a sense of creative openness for members of the artistic and musical community as well as giving those members a place to shine. And the thing is at the time it was the first thing that I could see in Philly that was on par with so many other musical movements that were happening around the globe. It was our version of what was happening in NYC with Giant Step, with the scene in SF with the Love N' Haight / rare groove scene, what Giles Peterson was doing in London at Jazz Cafe. We were really intertwined with all these other global movements. Philly has a tendency to only look inwards, and B2B was definitely looking outwards for inspiration and kinship in that regard. That's really the thing that made it "world class" to me. And as a DJ and promoter even after B2B stopped, I still looked at it as my "high water mark" for what I wanted to achieve.
And what would you say is the importance of Silk City as a venue to Philadelphia? Again through my research it became apparent that this was a place where a lot of local musicians cut their teeth or got together and practiced their craft through the years. It seems peculiar too by virtue of being a diner, rather than a normal club, and its location (in a neighborhood that wasn't popular at the time).
Silk City is a constant. It's always been a place where you can go and do stuff that's off the wall and experimental, and also in a sense it felt like the "clubhouse" for the crew. As clubs open and close and open and close, it's great to know that it's still there and still serving the community in the way that it does. I believe in energy residue and also believe in the spirit of great rooms. So many talented acts have passed through that room that the energy has kind of stuck to the walls! You can feel the soul!
Lastly any particularly relevant/funny/poignant memories from the B2B era that stand out for you?
There are so many so I can't pick just one. But it was great to bear witness to DJ Roc Raider spin at B2B when we hosted the 1994 DMC Qualifiers. So amazing to be in presence of greatness, which was kind of an every day thing at B2B!