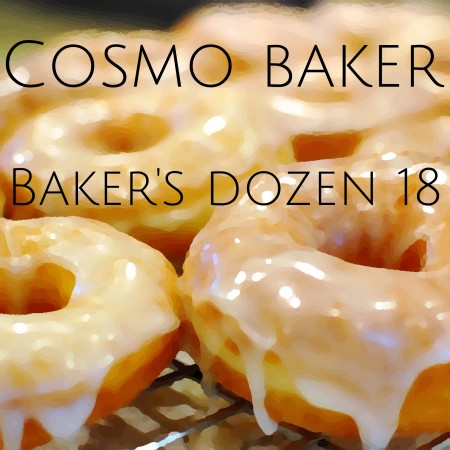 Thanks for tuning into Baker's Dozen – episode 18!
For those who may not know, for years I've been putting out a kind of "Best Of" monthly mix which was called Cosmo Baker's Top Ten. And over the years, having put them out off and on sporadically, I've amassed 17 different mixes.
Now "Best of" is really a misnomer because there's really no "best" songs in my opinion – like this isn't some sort of award show or race – it's more of just the tunes that I was personally feeling at that particular time. And over the years the "Top Ten" mixes really evolved into a particular sound that was definitely more dance-oriented, but never losing the funk quality that I feel drawn towards.
Also with the Top Ten mixes, it really gave me a few different opportunities to stretch out musically. Sure, lots of people knew of me as a DJ who would play some great rap tunes (and sure there have definitely been rap tunes rinsed on these mixes) but the pleasure I get out of playing dance music is unique. And it's not only about my growth as an artist which is what these mixes are about. It's also sharing and spreading the love of my friends and other people that I work with and admire in music. These mixes give me the chance to spread love to people that I respect and admire. Another thing about these mixes is that it gives me the opportunity to play things that may be exclusive, things that may have fallen under the radar, and things that maybe I might not bang in a typical Cosmo Baker set. But then of course as art imitates life, sometimes my sets started sounding like my Top Ten Mixes.
The last thing about these mixes is the way I've traditionally approached them. Unlike a lot of the other mixes that I – or most DJs do – they're not about fancy tricks or wicked blends or any of the bells and whistles. I've always approached these mixes more from a curatorial perspective, and to allow that to reflect in the actual mix itself. Going out and finding new tunes, new tunes that I like and can stand behind, and figuring out a way these all work together in one cohesive mix. The mix is always done bare bones, using nothing but two turntables and a mixer, but the music as a whole speaks a lot more in what it contains than how it's presented. Truth be told in my mind's eye it's a version of me being my own John Peel or Pete Tong.
So here's Baker's Dozen – the (new) new series of music presented by yours truly. Hope you enjoy it!
René & Angela "I'll Be Good (King Of Nothing Edit)"
Gallant "Open Up (Neonhund Remix)"
Luca Lush "Velvet Girls"
Mura Masa "Firefly feat. Nao"
Dr Packer "Shared Nights"
Jeremy Glenn "LIV"
Jean Tonique "What You Wanna Do feat. Dirty Radio"
Junktion "I'm Wishing (Original Mix)"
Lion Babe "Jump Hi feat. Childish Gambino (Todd Edwards Remix)"
Aroop Roy "Quen Vai Querer"
Enzo Siffredi "Sometimes (Original Mix)"
Earth People "Dance (Steve1der 2K15 Edit)"
Chet Faker "1998 feat. Banks"