I toyed with a few different ways that I could intro this project for its release, but after several different drafts over the course of however many hours, I finally realized the futility of it all – especially after the wonderful words that Skratch Bastid wrote on his Facebook page. Those words encapsulated it so fittingly. Not to try and make this project out to be anything bigger or more grand than what it is, merely a collection of songs that me and my friend really like and found ourselves returning to time and again. Then I had a realization. What I wanted to get across is that it has nothing to do with this mix, or me and Bastid, or even the songs themselves. It's more to than just these individual songs, or the curation of the Songs2013 project as a whole. At the end of the day it's about a very personal connection, and visceral reaction, that we all have to music. Some things just hit us in ways that only we can understand. Or we don't understand. It's an intangible, because how can you qualify or quantify that feeling? The inherent need that we as people have for communication, that gets refracted through the stories and sounds that we hear, through our speakers and into our ears, and set our imaginations on fire, giving us voices for when we don't have them. To me that's what it comes down to, that whatever song it is that's that's "your jam," it's really a road that allows you to sing a song you weren't able to but always had within. That's what makes a favorite song so dear. These songs, they sing for us, they warm us, and they become old friends – friends that we find ourselves returning  to again and again.
Also, sometimes a groove is just a groove. So let the groove get in. Thanks to everyone that got up, got into it, and got involved with this. Extra special shout to all the people that submitted to the #Songs2013 and extra shout to our OkayPlayer friends for premiering the mix on their Mixtape Mondays.  If you want it for your hard drive, download it here. If you like the concept, check out last years mix here.
Now enough with the words. Let's get to the music…
Cosmo Baker – January, 2014
We've all got our own jams.
Good songs have a way of finding our ears and if we love them, we keep them near. We go back to them, sometimes every day, sometimes every few weeks, or months, or even every few years. Some songs are new, some are old — our personal soundtrack is unique and comes from a number of different influences. We play certain songs over and over, and those songs often go on to define that time in our lives.
"Songs We Listened To A Lot in 2013″ is sort of a "Best Of" year-end mix, but the catch is it isn't only comprised of music that was released that year. Many of the songs ARE from 2013, but we want to make sure the 'older' songs that made noise on our speakers & headphones get the shine they deserve, too. 39 tracks, and just under 3 hours of music. It's safe to say that there is something on here for everyone, and we guarantee you're going to hear something new.
Outside of listening, we want you to get involved. We want to know what songs got the most spins on your Discman last year and what songs you would have put on a mix like this one. We've already got some great selections & stories from some of our good friends and we've been posting them over at songs2013.tumblr.com. On Facebook & Twitter, people have been posting titles & links, using the hashtag #Songs2013 – and they've been putting us up on great music. Let your favorites be known.
And let that mix bump. Peace!
– Bastid & Cosmo, 2014
Skratch Bastid & Cosmo Baker "Songs We Listened To A Lot In 2013"
(Artwork by Rhek)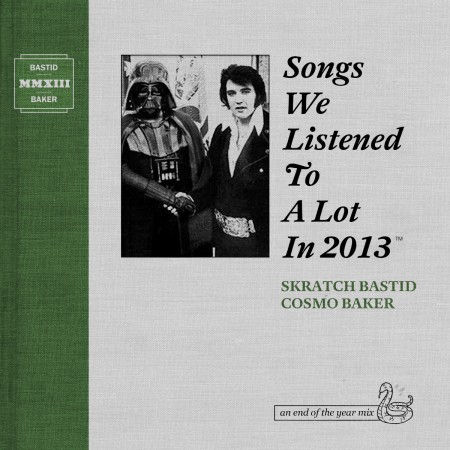 Wee – Aeroplane (Reprise)
Charles Bradley – Strictly Reserved For You
Omar – The Man
Pusha T – Numbers On The Boards
Jai Paul – 100 000
Mayer Hawthorne – Her Favorite Song (Oliver Remix)
Janet Jackson – If (Kaytranada Remix)
Rihanna (f/ Mikki Ekko) – Stay (Deejay Theory Dub)
Disclosure (f/ London Grammar) – Help Me Lose My Mind
Alice Smith – Another Love
Rich Homie Quan – Type Of Way
Gunplay – Bible On The Dash
King Krule – Easy Easy
Thundercat – Heartbreaks + Setbacks
Rhye – Open
Erasmo Carlos – Sorriso Dela
Marvin Gaye & Tammi Terrell – If This World Were Mine
Shy FX (f/ Liam Bailey) – Soon Come
Beres Hammond – Can't Stop a Man
Derrick Harriott – The Loser
Toots & The Maytals – Pressure Drop
Idris Muhammad – Could Heaven Ever Be Like This
Donald Byrd – Love Has Come Around
Alicia Myers – I Want To Thank You
Busta Rhymes & Q-Tip – Thank You
N.O.R.E. & Large Professor – Built Pyramids
Wale (f/ Sam Dew) – Lovehate Thing
Mariah Carey & Miguel – Beautiful
Diana Ross & The Supremes – Reflections
Todd Terje – Strandbar (Samba Version)
Ninetoes – Finder
Little Boots – Satelite (Lindstrøm Remix)
Goldroom – Embrace (Cyclist Remix)
Classixx – Hanging Gardens
Ned Doheny – Get It Up For Love
Alessi – Do You Feel It?
The Futures – Ain't No Time Fa Nuthin'
Janelle Monae & Miguel – Prime Time
Bobby Hutcherson – Now
Thanks for the support!
OkayPlayer
Discobelle
Hustlegrl